The ACMD Centre
The ACMD Centre is a state-of-the-art facility that has been designed by leading architects Denton Corker Marshall in close collaboration with ACMD partners, researchers and medical staff. This ground-breaking centre will be located on the campus of St Vincent's Hospital Melbourne. It will be a significant landmark, situated on the north edge of Melbourne's CBD, opposite the Royal Exhibition Building.
The Centre will feature a light-filled atrium, exhibition space and multi-level lecture theatre (pictured below) as well as a variety of specialists laboratories.
"The building will be the home for ACMD. And like any home, it will create, hold close and develop the culture that supports the people who are part of it. People will come because of ACMD's unique facilities; they will stay because of its unique culture."
- Dr Erol Harvey, ACMD CEO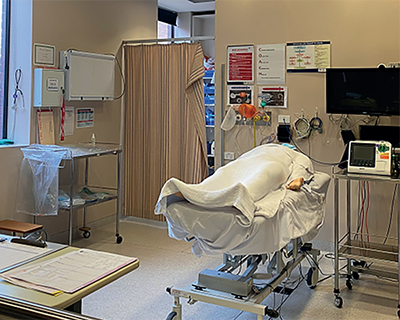 Clinical Simulation Laboratory (Level 2)
A dedicated simulation suite includes simulated clinical areas and high-fidelity mannequins to assist students and staff by replicating real-life scenarios in realistic settings.
Human Kinetics Laboratory (Level 3)
The Human Kinetics Laboratory features a state-of-the-art gait analysis system. This facility will provide the capability to measure motion of the entire human body. It is designed to explore human movement and the impact of neuromuscular conditions, treatment such as surgery and rehabilitation and function devices, such as prosthetics, orthotics and exoskeletons.
Faraday Rooms (Level 2)
The development of hearing and vision technologies – specifically, implantable devices for sensory conditions, including human testing – needs to be conducted in a controlled environment. At ACMD, we have included six Faraday Rooms, which allow researchers to undertake experiments without electrical, sound or light interference.
Exclusive Naming Rights Opportunities for the ACMD Centre

Naming rights for the building are available, as well as for significant internal spaces.
These exclusive opportunities offer a special way to support medical innovation or leave a legacy for you, your family or your organisation.