Chelsea and Brock first met at the tender age of 16. They started off as friends, often sharing a joke and a laugh. Two years later their friendship developed into a love that continued to grow and deepen as they endured far more than any young couple will ever have to go through in the years to come.
Chelsea was instantly attracted to Brock's outlook on life. "He was a really positive person. He was also very patient and kind. Somehow, he managed to see the best in everyone."
Their life was filled with adventure. They both loved camping and 4WDing. Self-professed adrenalin junkie Brock spent much of his downtime searching for the next rush.
Chelsea and Brock's lives were first turned upside down in 2014 when Brock started to feel tired and just a bit off. He'd been working a lot of overtime, so he put it down to exhaustion. Until one morning, around 2am, he woke suffering from a bad migraine and nausea.
Chelsea, who is a nurse, decided to take Brock to the emergency department at their local hospital. They ran a few tests, and it was suspected to be a virus.
"A CT scan showed a growth, but we assumed it was just a cyst," Chelsea said.
As a precaution, Brock was transferred to St Vincent's Hospital Melbourne for an MRI. Chelsea remembers noticing there was a sense of urgency around how quickly patient transport arrived and the fact he was almost instantly taken to get an MRI.
"It was at this point that I started to get concerned that there might be something really wrong with Brock.
"That afternoon we got the results. Brock had a grade 2 anaplastic astrocytoma brain tumour. The next day he had his first craniotomy followed by a second one shortly after."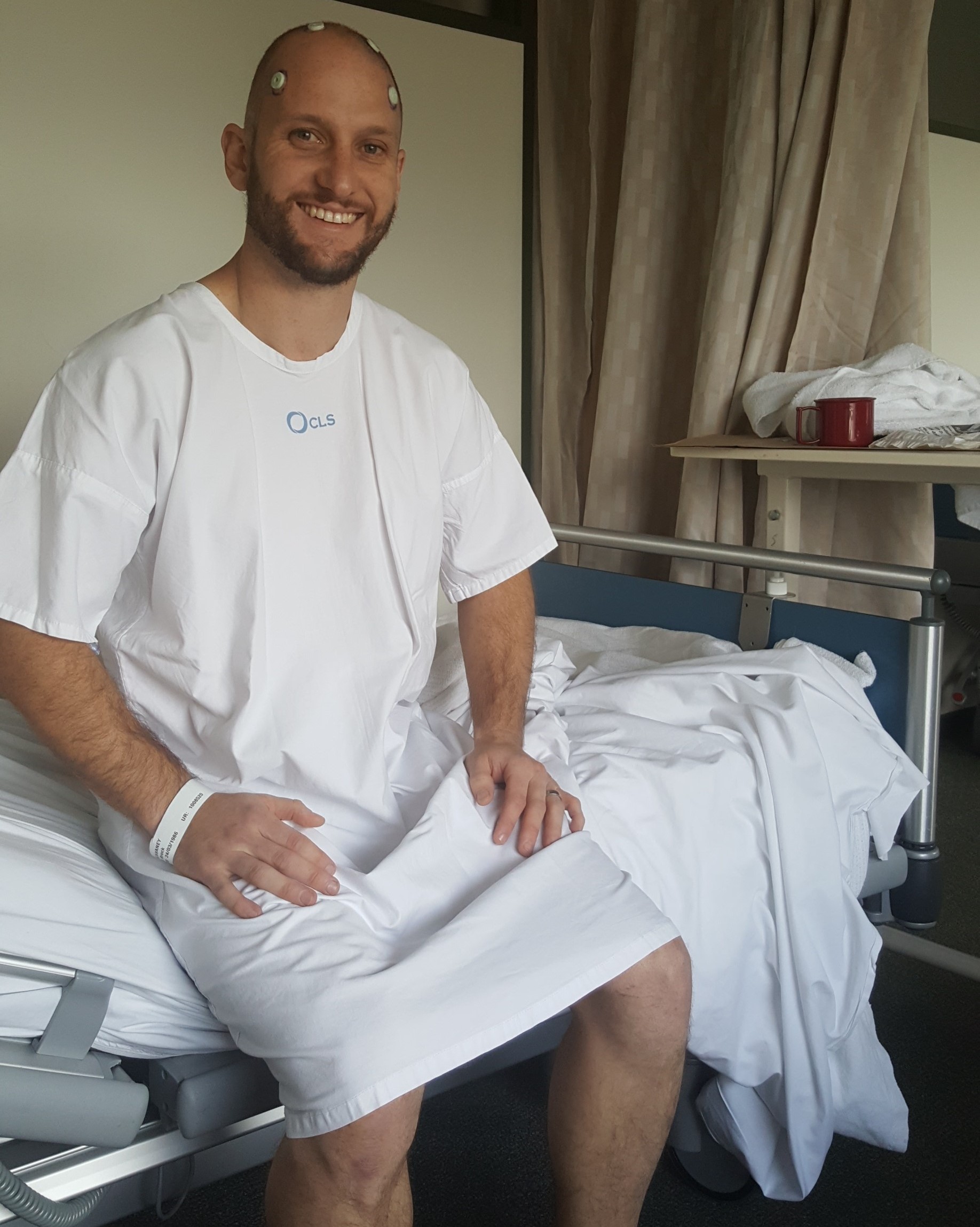 The vivacious and adventurous couple refused to let the diagnosis completely alter their lives. Despite having to go through radiation and oral chemotherapy, Brock continued to work as an electrician.
Over the next five years they got married, travelled to the USA and a year later to New Zealand where the highlight was of course bungee jumping and visiting as many burger joints as possible. They also bought a house and added a new addition to their family, a Jack Russell named Benny.
Chelsea recalls that Brock was really proud they were able to buy a house. "It was Brock's idea to get Benny. He woke up one day in hospital and said let's get a small dog. I cursed him because Benny has so much energy. He's a lot of work but he makes me laugh."
By the time Brock had his third craniotomy, his tumour had progressed to grade 3. He also developed seizures after his last operation. It was at this point that he started to become really unwell.
Brock passed away on 22 June 2019 at just 33 years old. It was his wish to be an organ donor and to die at St Vincent's.
Chelsea said all the St Vincent's staff on the 10 West neurology ward and Intensive Care Unit (ICU) were amazing. "Everyone was so caring; they always went out of their way to care for both of us. The ICU team went above and beyond to make Brock's wish to be an organ donor a reality."
Almost a year after Brock passed away, Chelsea decided to make her first donation to St Vincent's. She continues to give a donation every year. "It's to thank the team for Brock's incredible care. I hope it helps in some way."
Since that fateful day, life has been very different for Chelsea. She's taken up marathon running and hiking. She says fresh air and being in nature help with her mental health.
Chelsea still has her good and bad days but she's trying to focus on the positives. "Brock didn't get to live, so I must live for him. I feel so lucky to have had 15 amazing years with my best friend. Because of what we went through, we were incredibly close; he was my everything."
If you would like to support St Vincent's Hospital Melbourne's team of caring staff, click here.