The Sisterhood of St Vincent's
Supporting and celebrating women in health
About The Sisterhood of St Vincent's
The Sisterhood of St Vincent's is a network of dedicated women supporting women's health issues and women in health, science and engineering.
This group of dedicated and driven women inspire each other and those around them to raise funds for St Vincent's hospitals and research programs.
As well as supporting women in health, The Sisterhood of St Vincent's is committed to helping to shape the future of medicine through their interest and support and by inspiring and nurturing future leaders.
The Sisterhood also advocates for women's health, mental health and women as carers, with a focus on palliative care.
Funds raised go towards nursing research, scholarships, care giving and women's health.
The Sisterhood of St Vincent's over 10 years ago with a small group of women who were passionate about continuing the mission of The Sisters of Charity, by raising awareness and funds for the hospital.
"I am incredibly proud of the amazing group of women who gave their time, their resources and themselves to form what we call 'The Sisterhood'. Our group was established to help carry out the ongoing mission of our founders, The Sisters of Charity, and we feel privileged to have supported critical areas of need, such as Cardiology, Dermatology and Mental Health at St Vincent's Hospital, Melbourne."
- Sarah Kennedy, The Sisterhood of St Vincent's
We invite you to join us
The Sisterhood of St Vincent's began as an annual fundraising luncheon. The success of this event inspired the group to develop The Sisterhood community and expand to incorporate additional events and networking opportunities.
We're calling on supporters to help build The Sisterhood network through philanthropy, engagement and sponsorship.
If you have any questions or would like to know more about ways your organisation, community group or school can get involved, please contact Rebecca MacFarling, Deputy Director, St Vincent's Foundation.

T: 03 9231 3465
E: rebecca.macfarling@svha.org.au
"We need more women leaders in research and medicine to provide diversity in leadership and inclusivity. Women tend to be good communicators, make measured decisions, and encourage collaborations. These are all great qualities to facilitate successful medical research projects. We also need more role models for the next generation of girls in STEM."
- Cynthia Wong, Manager, BioFab3D, a division of ACMD
The Sisterhood of St Vincent's Events
Genazzano Institute - Engaging future generations
The Genazzano Institute of Learning & Brain Sciences is an educational initiative to promote knowledge and practice in the evolving fields of learning and brain sciences for students, educators and the wider community. For more information visit https://www.geninstitute.vic.edu.au
The partnership between Genazzano Institute, The Sisterhood of St Vincent's and St Vincent's Foundation was established to aim to:
Foster the shared values of justice, compassion, companionship and excellence through education and action in the areas of philanthropy and medical advancement.
Provide exceptional opportunities for students to develop knowledge and skill in areas of medicine and technology, through engaging with the world class work and research of Australia's first collaborative, hospital-based biomedical engineering research centre, ACMD.
Promote education and skills in the field of philanthropy. Students may earn a microcredential in the Foundations in Philanthropy.
Engage with The Sisterhood of St Vincent's to support the work of St Vincent's Hospitals and research.
Fundraising Luncheons - Creating awareness and support for key areas of health
Held over the past ten years, the Sisterhood of St Vincent's luncheons are a signature event for St Vincent's Hospital.
The Sisterhood committee work tirelessly to bring together a network of inspiring women. Event attendees enjoyed an afternoon indulging in delicious food and great entertainment. Their generosity also enabled thousands of dollars to be raised for a variety of key areas of the Hospital, including Cardiology, Dermatology and Mental Health.
"There's something magical about women coming together for the Sisterhood. The activation of two innate female powers – networking and nurturing - and the direct impact that it can have in creating awareness and funds for St Vincent's Hospital, is something I'm very proud to be part of."
- Amber Petty, Sisterhood Committee Member
The 2022 Sisterhood Event raises $60,000 for Mental Health
We were so thrilled to welcome back our Sisterhood of St Vincent's Lunchtime Gala after a 2-year hiatus. What a spectacular event, filled with so many of our incredibly glamorous supporters!
A very special mention must be made to our fabulous Event MC, Amber Petty and our inspirational Guest Speaker Jelena Dokic who simply wowed the audience!
We are thrilled to announce that the event raised a phenomenal $60,000. All funds raised will go towards the St Vincent's Addiction Medicine & Mental Health — Extending Community Healthcare Outcomes (ECHO) program.
Thank you to all those who attended, we are so grateful for their support.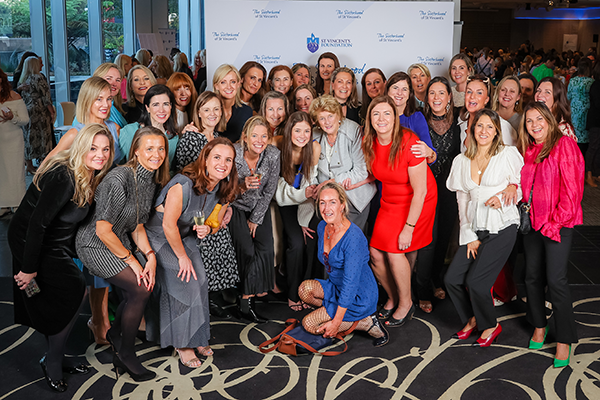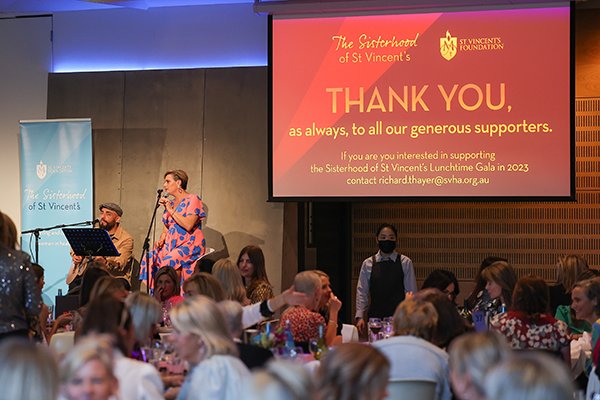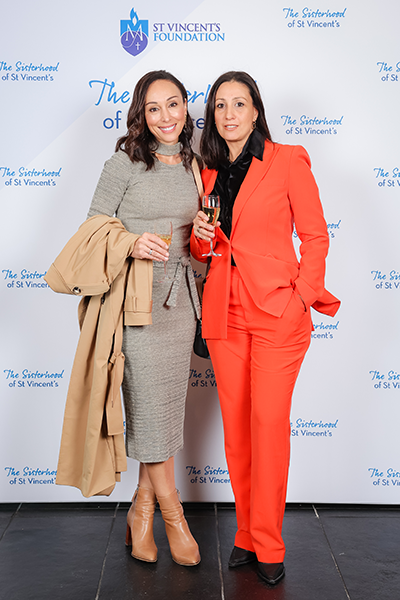 "This is lunch to put in your diary as a not to be missed event for next year. It was sensational. Hosted by Amber Petty, former tennis ace Jelena Dokic stunned the crowd with an emotional and incredibly powerful keynote speech. Very few people receive standing ovations at a charity lunch. Dokic did and it was so well deserved."
- Fiona Byrne, The Sunday Herald Sun, 5th June 2022